NJMS is introducing Podcasting to certain courses  for our 1st and 2nd year students.  By Podcasting our lectures, students can  review lecture information in MP3   (Audio) and MP4 (Video with Voice).
First, if you do not have iTunes on your  computer – take a few moments and download it.   There is a free download on the Apple.com website.  Just go to http://www.apple.com/itunes/ .  The download is located in the right nav.
On the NJMS website at  http://njms.rutgers.edu/  you will find a link to our Public iTunes  site.   The link is located at the bottom of the page under the Get Social heading. It is the iTunes icon. You can also click here to access iTunesU directly.
Take a few moments to browse our Public  site.  We are featuring video clips of  our faculty, staff and students.
Course information is located in a secured  area.  You will be able to view podcast of  lectures for courses you are currently registered for.  To access this private area from the Public  iTunes page:
Click the "Student/Instructor Login"  in the top right nav under "Links"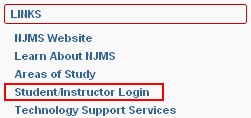 This will launch the NJMS Intranet
Log into the NJMS Intranet using your Core ID  and Password
If your login is not successful use your Core ID  and click "New User" under the log in box
Follow the prompts to complete the log in  process
Once you reach the Profile page you will see a  link for iTunes U

This link will launch the private course area in  the iTunes application
Note: be patient and give iTunes a moment to  load the private page – the bar under the iTunes logo will indicate it's  progress

Once the page has loaded you can scroll down to  see which course podcasts are available.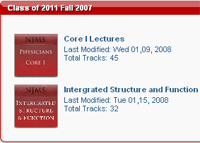 Click on the course and you will see a list of  lectures available for you to download.

If you subscribe to your course – they will  download automatically when you sync your MP Player.
We welcome your comments and suggestions on how  we can improve this service. Feel free to contact Technology Support Services  at  njmsts@rutgers.edu.
Posted on July 15th, 2013 by tssadmin